Pastor Powell to Head to Washington, D.C.
February 18, 2006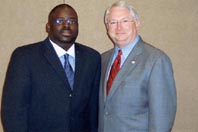 Pastor Cory S. Powell & Congressman Randy Neugebauer
Proverbs 18:16 says,
"
A man's gift maketh room for him, and bringeth him before great men."
Such is the case with
Pastor Cory S. Powell, as he was recently nominated to attend the two-day
African American Leadership Summit
 in
Washington , D.C.
by Congressman Randy Neugebauer. The annual event will be convened in late March and is co-chaired by Texas Senator, Kay Bailey Hutchinson.
Pastor Powell will be one of 400 prominent African Americans from across the county to travel to our nation's capitol for the purpose of discussing pertinent issues such as; economic development, education, community & faith-based initiatives, housing, and health care with members of Congress and  top officials within the Bush Administration.   
"It's an honor to be invited to such a prestigious event and to have the opportunity to network with individuals from all walks of life", Pastor Powell said, when asked about his participation in the Summit . He continued, "I'm in awe of what God is doing in my life.  He continually proves his word and I love him for it!"
Back