Rejoice...He Got Up!
It's A New Season
By Pastor Cory S. Powell | March 20, 2009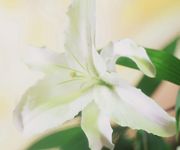 It is not coincidental that we celebrate the resurrection of our Lord and Savior Jesus Christ during the spring.The spring signifies a change in season, new life and new beginnings.
Likewise, the death, burial and resurrection of Jesus marked a change in season, afforded new life and ushered in a new era. No longer are we, the children of God, bound by sin, death or the grave. No longer are we slaves to meaningless religious rituals and traditions! We have new life!Song of Solomon 2:11-12 says, "For lo, the winter is past, the rain is over and gone; the flowers appear on the earth; the time of the singing of birds is come, and the voice of the turtle is heard in our land."
Regardless of your situation or circumstance, you have reason to rejoice, because He Got Up! Join us on Resurrection Sunday, April 12th, as we celebrate in total victory our salvation, redemption, sanctification and justification!
Back